The House Was Filled with the Fragrance of the Perfume:

A Spirituality of the Order of the Holy Sepulchre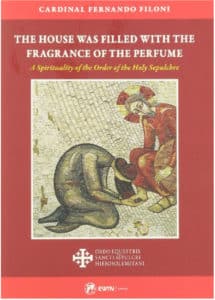 In his book on the spirituality of the Equestrian Order of the Holy Sepulchre of Jerusalem, the Grand Master of the Order, Cardinal Fernando Filoni, reflects on the life, the beliefs, the values, and the choices of a Knight and Dame.
This book will help help current members of the Order in deepening their faith journey. It will serve as an introduction to the Order for Catholics interested in our mission for caring for the peoples and places in the Holy Land.
The book is available from many sellers, including the EWTN Religious Book Catalog: Click HERE to purchase the book.
It can also be downloaded as an mp3 audio book by following this link to our secure server. Click HERE to download the audio book.
To download the audio book on a computer, laptop, or tablet, please click the … and follow the instructions.
To download the audio book on a cellular phone, use the "Share" icon then select "Save File" to download to your phone.